Yacht Charter
Yacht Charter
Either you own a motor yacht but it is not very convenient to bring her to Turkey or Greek islands or you are willing to charter an extravagant motor yacht in the Mediterranean then you might want to consider chartering a luxury motor yacht with us. Thanks to Globalization, we might be able to offer you whichever yacht you have in mind that is mostly possible to charter. Even the most luxurious Large yacht owners realize that it is more convenient to let their yachts being chartered by other rich and famous people.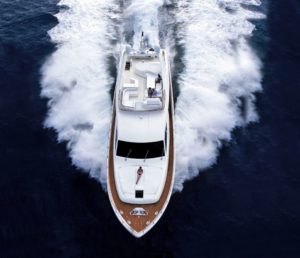 This charter concept makes most motor yachts mega yachts charterable during the off-season as well or the periods that the head owners do not use their expensive toys due to their hectic business pr. It is well proven that when working with a reliable Brokerage house the luxury yacht charter can be a lucrative business.

Besides having enjoyed their vacations onboard, the yacht can be self-sufficient with her crew wages and annual expenses which are well known to be costly to their owners.

Chartering luxury motor yacht has activated the motor yacht building industry as well as brokerage business since it is a win-win situation when the yacht is more popular when chartered and can be sold easily for her reputation unless otherwise she is not well maintained and updated annually to keep up the highest standards…
with us, it is a common practice to sell a yacht while the client is enjoying aboard beng charter cause there is no better time than during her charter to promote the yacht and she can be sold in a heartbeat by the charterer. it is known by everyone who owns a motor yacht that to keep her in pristine conditions and you need a good permanent crew aboard to maintain her in perfect conditions either for private use or charter in mind. There is nothing better than a well organized, well-maintained yacht to get an exclusive charter service since you don't have to invest millions of euros while you only need her for a week or two during summer and it comes cheaper to charter a yacht than own her, as well as less stressful…
We professionally intermediate between head owners from the first hand and the qualified charterer since it is not that easy for a yacht owner to attend and/or entertain each and everyone who claims to be a genuine broker or charterer.
We pre-screen potential clients and bring only qualified clients to yacht owners, meantime we can offer the best possible alternatives for your specific needs that you don't have to fish for the right boat or the right price in the ocean alone. Whoever is involved in blue water sailing knows that it is a privilege to feel the wind and the inclination of the yacht charter Turkey.

Crewed sailing yachts charter can offer the same level of comfort and experience as a luxury gulet or a motor yacht even though less spacious but yet more privileged and closer to the sea… When the crew is experienced and they understand and feel your expectations from a sailing vacation on a yacht charter Turkey, being able to swim in the most beautiful bays and learn to sail and share precious time with your loved ones and the crew, sailing the favorable winds while relaxing in a five-star environment.
Most gulet owners like us who own and operate luxury gulets prefer to pay a commission to a broker to make sure that they don't have to deal and wheel with bogus buyers, bogus agents, or bogus clients which is frustrating…
Let Serve You!
Practice for the yachting industry, shipping industry or aviation industry that no one would charter their yacht charter, ship or aircraft to unknown private person or company instead they all prefer to work with a reputable agent and brokerage house with the repetitive clients and guaranteed MYBA contracts to avoid sour experiences or unnecessary headaches and disastrous business losses…
If you are a family or couple of friends who consider yacht charter in the turquoise waters of Turkey and Greek islands then contact us by email let us know when and how many cabins are you considering with a budget so that we do the rest of the job and get back to you with the right gulet with guaranteed availability and best possible price in the market. Otherwise, you might go through amongst thousands of gulets never knowing if she is available during your yacht charter dates and unfortunately end up with an unknown boat which you might regret for the rest of the summer or never even get your dream holiday come true. it is very important that you choose the right agent who can fulfill your expectations and that you need to how many crew will be attending, know how many hours of daily cruising with the engine, how are the air conditioning system and you need to decide whether you buy the provisions during a couple of hours before departure or we replenish the provisions according to your heart's desire and present you the invoice upon arrival on board.